Other NEW Releases
Cover by: Daveda Gruber
ISBN: 9781300238072


What would you want to say if you knew death was close? This book is about a woman in the final stages of cancer. This is her eighth book. She takes you on an amazing journey that can only be written by this very special woman. She doesn't want pity; she wants you to know her thoughts and feelings. If you have had cancer, have this disease or if you know someone who has had it or has it, buy this book. Take the step to learn what this extraordinary woman has to say. Learn and understand that courage and strength can be a big part of a life. A life can be about love, butterflies, purple skies and a lavender moon. It is also about faith and knowing who you are. Joree is a poet and all is possible through poetry.


By Publishing with Passion
Sept. 26, 2012
Joree's journey has not been an easy one and you can see that in the writing within this beautiful book. It will make you sad and make you happy. Williams has a knack for being able to do that. This book had tender moments and this book should be treasured and loved while being treated with kindness and a gentle touch. The book deserves this, Read through the final thoughts of a woman who is facing death. She is dying and yet she has no bad thoughts only beauty and love.


ISBN Hard Cover (B&W Version): 9781300165286
ISBN Soft Cover (B&W Version): 9781300164173
ISBN Soft Cover (Full Interior Color Version): 9781300231912
Cover By Graphic Art Designer: Daveda Gruber
The most anticipated poetry book to come from Daveda Gruber is finally here. Having taken years of graphic art designs and poetry writing, it is here for your total enjoyment. In this Daveda's sixteenth book, discover "Picture Poetry," as this brilliant woman has named it, come to life. It is available in Hard Cover and Soft Cover both in Black and White and a Soft Cover version that is presented in Full Interior Color. Besides her own extraordinary poetry, Daveda introduces three incredible romantic poems, which are co-written with one of her poet peers by the name of Stefan Borenstein. All of the poetry is written to perfection with Free Flow verse as well as beautiful poetic forms; many of the poetic styles have been created by the author herself. Discover the variety of imagination through poetic flare and elegance that only Daveda can write. This book is a 'must have' in any poetry collection and will stand out as a gem.
By Publishing with Passion
Sept. 9, 2012

As the members of the publishing team looked through the magnificence of this totally unique book looked at the pages, there was delight in the presentation of this extraordinary poetry. The book comes in three versions. Black and white hard and soft covers and a soft cover color version. The color version will blow you away but the poetry itself is clever and written from the inner most depth of Gruber's heart that the black and white book is also a winner. "Picture Poetry," as named by Daveda, is a wonderful new way of experiencing a poetry book. You will find heart wrenching poems that will bring you to tears and sensual writing that will take you on its own journey. There are three amazing poems that Daveda has invited a co-writer to pen with her. This is a book that should be read by any poetry lover. It is highly recommended.

ISBN: 9781300051374

Cover by: Daveda Gruber


Live your life day to day with praise. Let a very inspiring writer by the name of Mary Ann Harring-Duhart be the one to change the way you see things as she shows you that through praise your energy is heightened. This is the twelfth book by this most gifted poet and she has the ability to show you the way. The graphic art designs enhance the moments. Come praise with this generation's most talented bard in a way you never dreamed possible.


By Publishing with Passion
Aug 4, 2012
If you give praise to the Lord or want to start to, this is the book for you. Harring-Duhart leads the way as she shows you how praising can change you and your life. Page after page the poems that are done in beautiful poetic styles which will have you thankful for what God has given to us. Mary's writing is uplifting and inspirational. This is truly a book every Christian should have in their collection.
To Buy Paper Back Click Here:
http://www.lulu.com/shop/mary-ann-ha...-20313508.html
To buy Hard Cover
Click Here:
http://www.lulu.com/shop/mary-ann-harring-duhart/an-attitude-of-praise/hardcover/product-20349344.html


Cover by: Daveda Gruber & Stefan Borenstein

This book will feed your mind with the exceptional writing of a most gifted man, Stefan Borenstein. In addition to brilliantly written poetic verse, you will be thrilled to have the pleasure of the enhancement of delightful graphic art designs. There is a guest author in the book and the sensual poems that are co-written are most skillfully penned by both Stefan Borenstein and Daveda Gruber. Enter a most intriguing world that will blow you away with poems that have the magic of metaphoric word usage and some that will touch your heart in a most gratifying way. See poetry in a manner that only Borenstein can portray it.


I have read Stefan's two first books and was delighted with the depth of his writing capabilities. Now I have read "One Eye to the Blind." Truly remarkable poetry pours from the pages to make this third book of Stefan's one to treasure. From the harsh realities of life endured to the more pleasant situations, this book will have you marveling at the poetry you are about to delve into. You will be struck by marvelous graphic art as well as introduced to a guest poet by the name of Daveda Gruber who co-wrote three exquisite sensual poems in the book. Read and discover a world that only Stefan can create.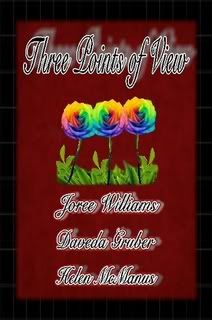 ISBN: 978-1-105-35410-6
Cover by: Helen McManus and Daveda Gruber

If ever you could be able to read the crème de la crème of poetry in one book, you have just touched upon it. Three incredible minds, the best of this era, take you to their own point of view on a given subject. See the extraordinary differences in how three each individual poet expresses her thoughts into words. The subjects have been randomly picked and a point of view from Williams, Gruber and McManus show you the diversity that poetry can have at its finest moments.



Dec. 13, 2011
By Publishing with Passion
This book contains some of the most remarkable poetry you will ever have the pleasure of reading. It is amazing how one subject can be written upon in three completely different ways. You will see how three of the most talented poets around give you such different ways of what they feel when a topic is put to them. A graphic art design accompanies the topic and three poems follow. This makes the book one of the most exciting and unique poetry books that anyone can read. It has some sadness, serious moods and humor all displayed with elegance in this extremely well formatted book. It is a must to add to any collection.



Click Here to Buy:
http://www.lulu.com/product/paperbac...-view/18750771