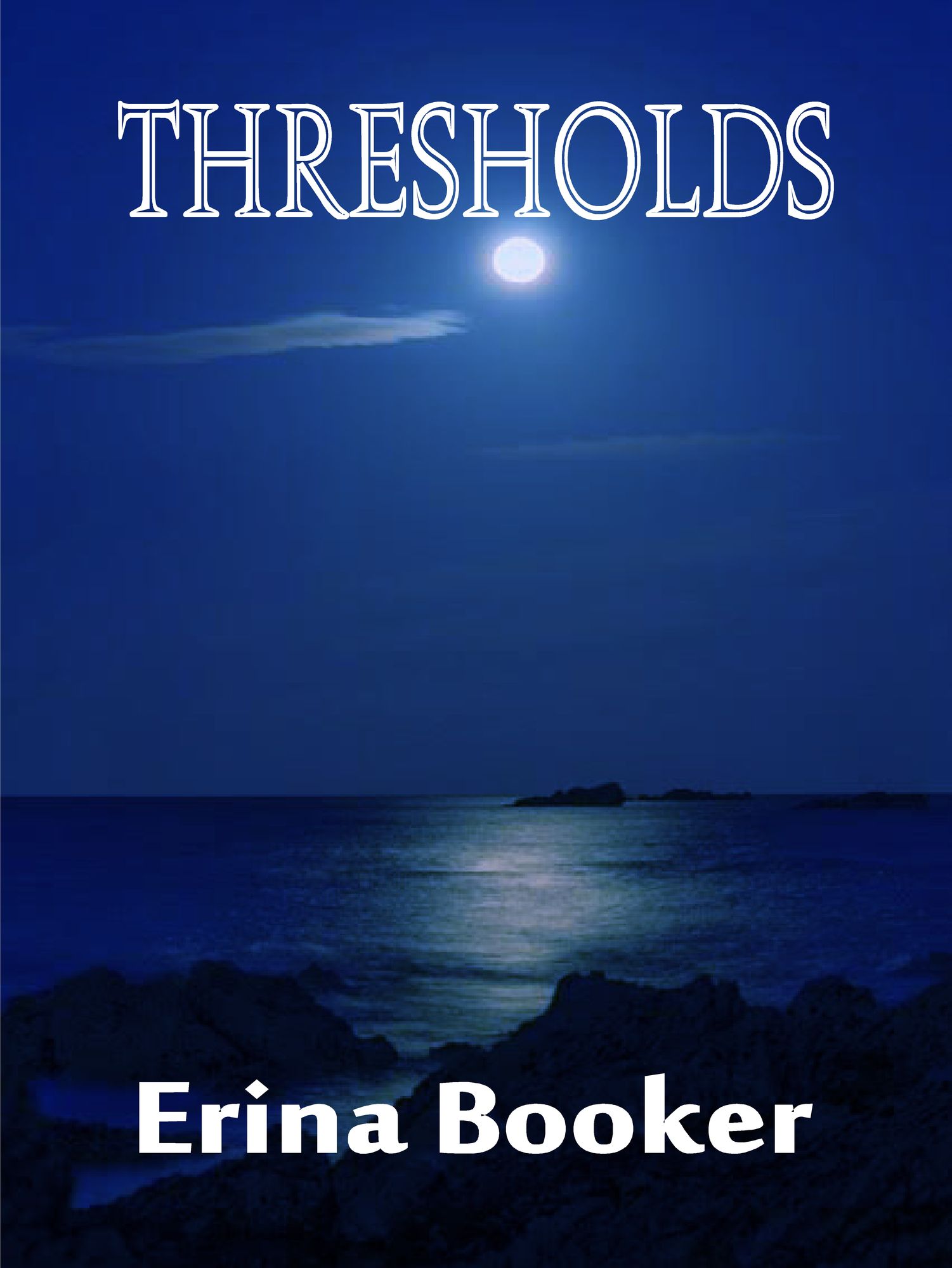 Cover Re-Color by Daveda Gruber
Any poetry reader will be captured by the artistry of this incredibly written book of poetic genius. The Australian born author has an alluring way of keeping her readers clinging to her wording through poem after poem. The book has two parts. Take each journey and you will be beguiled by the impressive word usage. There is sadness and pain that will stir your emotions but there is beauty that goes unchallenged. Hold this book gently, for it holds a life spilled onto pages that you will never forget.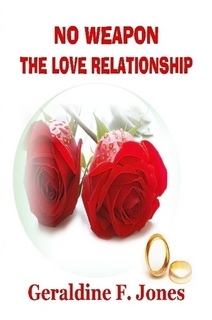 ISBN: 9781329596184
Cover by: Daveda Gruber
People fall in love and get married all the time. No one goes into a marriage with the intentions to get divorced. Many marriages do, however, end up that way. Divorce does not have to be the answer.
Geraldine F. Jones has a method to get the marriage working even if you believe it has failed. This brilliant woman has gone through the process herself and has a Master of Science Degree in Marriage Counseling. Her theory can work for any marriage.
If you believe in God and really want your marriage to heal rather than crumble, you can do it. This book will be your guide. Take the first step and buy a copy of the book and learn from an expert. Make your marriage work and avoid the turmoil that comes with divorce.
To Buy Click Here:
http://www.lulu.com/shop/geraldine-f-jones/no-weapon-the-love-realtionship/paperback/product-22385425.html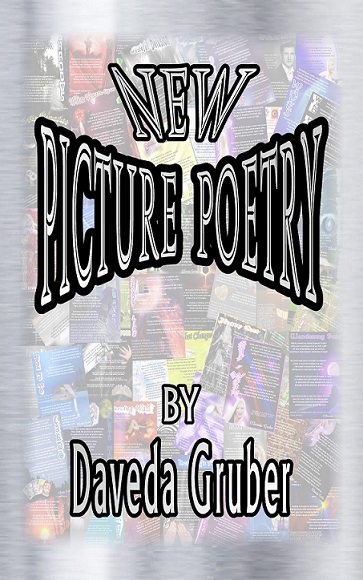 COLOR VERSION ISBN: 978-1-312-62310-1


B&W VERSION ISBN: 978-1-312-53771-2
COVER BY: Daveda Gruber
In this her seventeenth book, a different kind of poetry book is what you will find here. All of the poetry is done on photography and graphic art designs. The author is a poetic genius who has written from the innermost depths of her soul. You may cry, laugh and feel emotions that will give you the opportunity to get to know her just a little better than from her previous books. Daveda created the first 'Picture Poetry' book a few years ago and now has decided it is the time to release this, her latest book. Take the time to read about the author as she reveals her thoughts about where she came from and her views on America. You will then be able to understand her poetry a little bit better but you will not fall asleep reading this poetry book. Every poem has a purpose because it is a part of the author and her hopes and fears. A full glossary of poetic styles/forms that are used is included in the book. Enjoy the journey as you turn the pages of this 'New Picture Poetry'.
Color Version Click Here:


http://www.lulu.com/shop/daveda-gruber/new-picture-poetry/paperback/product-21865023.html



B&W Version Click Here: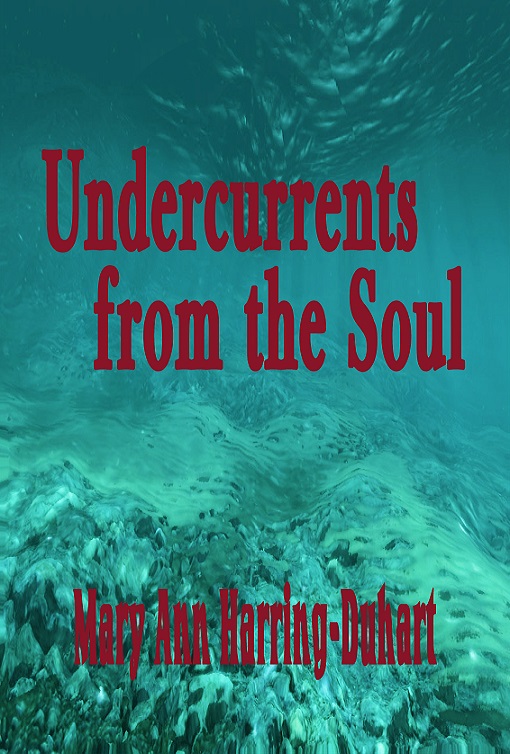 ISBN:9781312442702
Cover Design by: Daveda Gruber
This is a very unique poetry book by an excellent poet as the poems within the book are all dedications from the author. She has written poem that will let you know people both famous and not; letting you get to know each one personally. Some of the individuals referred to in the book have gone to Heaven and other are still with us on this earth. Explore and get to know each person through the awesome writing of the author.
Buy Book Here:
http://www.lulu.com/shop/terry-c-lewis/dedications-from-the-heart/paperback/product-21764199.html

ISBN:
9781312083868
Cover Design by Daveda Gruber

America began as a country of immigrants. Some of the first settlers here came from across the Atlantic Ocean, from Ireland and Scotland. These people sacrificed much as they traveled the stormy seas to reach a land where they could be free. This book is about some of these people and their courage to start a new life in a new land. They fought Indian tribes here who were not willing to share their land and the British who wanted exclusive control. This book is historically true and has all the elements to keep anyone's attention. You will find yourself immersed with a family as they begin their voyage to a new land and feel their hardships and their joy. You will experience love, family, children and the Church that meant so much to their freedom. There are historical references included. Sit back and watch times gone by unfold before your eyes as the Creighton family make America their new found home as you turn the pages of history.
* * * * *
If you love true stories about real people in history who lived on this earth and traveled from Ireland and Scotland to America to elude persecution from the British only to encounter the Cherokee Warriors and the British again, you are in for a really big treat. Besides the journey, there is love and family. You'll meet the descendants of the author Philip Creighton. They came to America and had to fight for their freedom, which was something they cherished greatly. This book is filled with joy, grief and sorrow, love and so much more. I got so involved in this family's lives that I dreamed about them at night. The characters shine throughout the book. You will meet heroes and friendly people who will take you with them on this awesome trip and the making of a new world and life.
ISBN: 9781312442702

Cover by: Daveda Gruber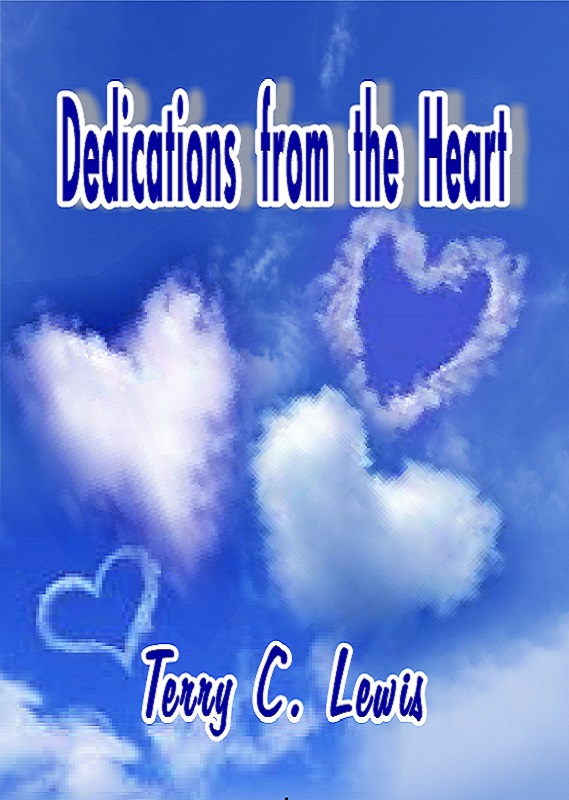 ISBN: 9781312442702

Cover by: Daveda Gruber
Buy Book Here:
http://www.lulu.com/shop/terry-c-lewis/dedications-from-the-heart/paperback/product-21764199.html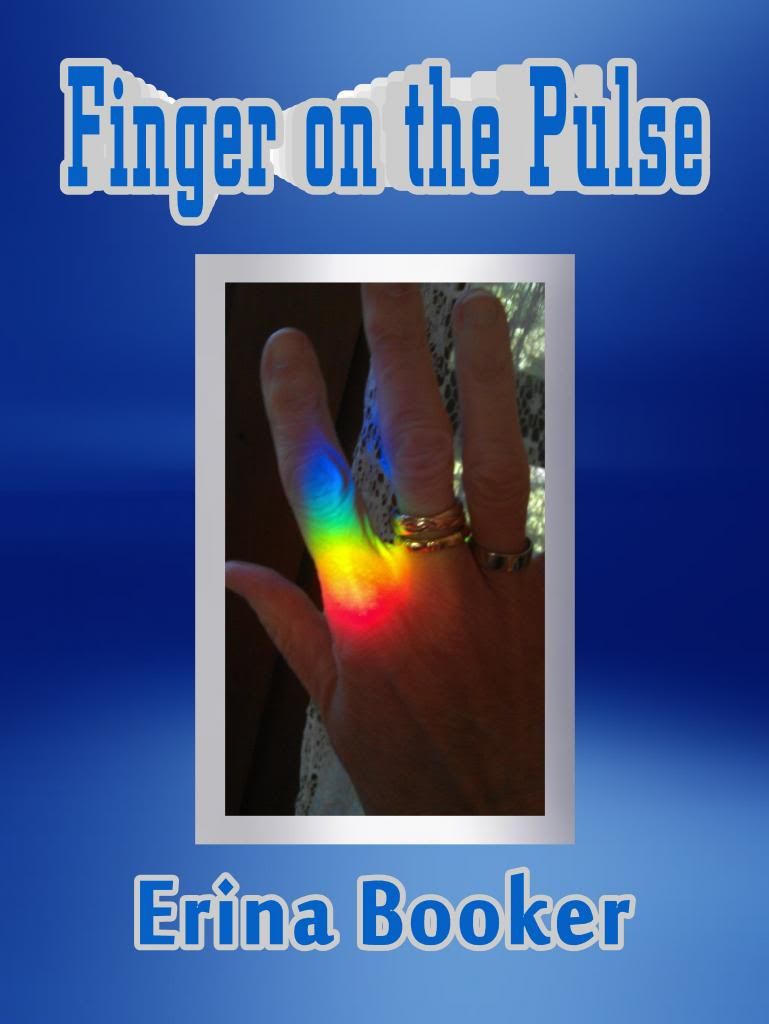 Cover by: Daveda Gruber

ISBN: 9781304301673
The journey through poetic wonderment begins as you open the book and the overwhelming beauty of it encompasses the mind of the reader. This book is extremely well presented with photography, graphics and paintings that will dazzle the mind. The poetry comes from the innermost thoughts of Erina Booker. She is an Australian born author with a magnificent connection to the poetic word. This piece of work will delight any poetry reader.
This is a most delightful poetry book written to perfection. Booker is an amazing poetess who delivers her poetry from her emotion and inner feelings that come through to the reader in a most enchanting way. Feel the passion that comes along with photography, paintings and graphic art designs when you embark on the journey as you open and read this wondrous book.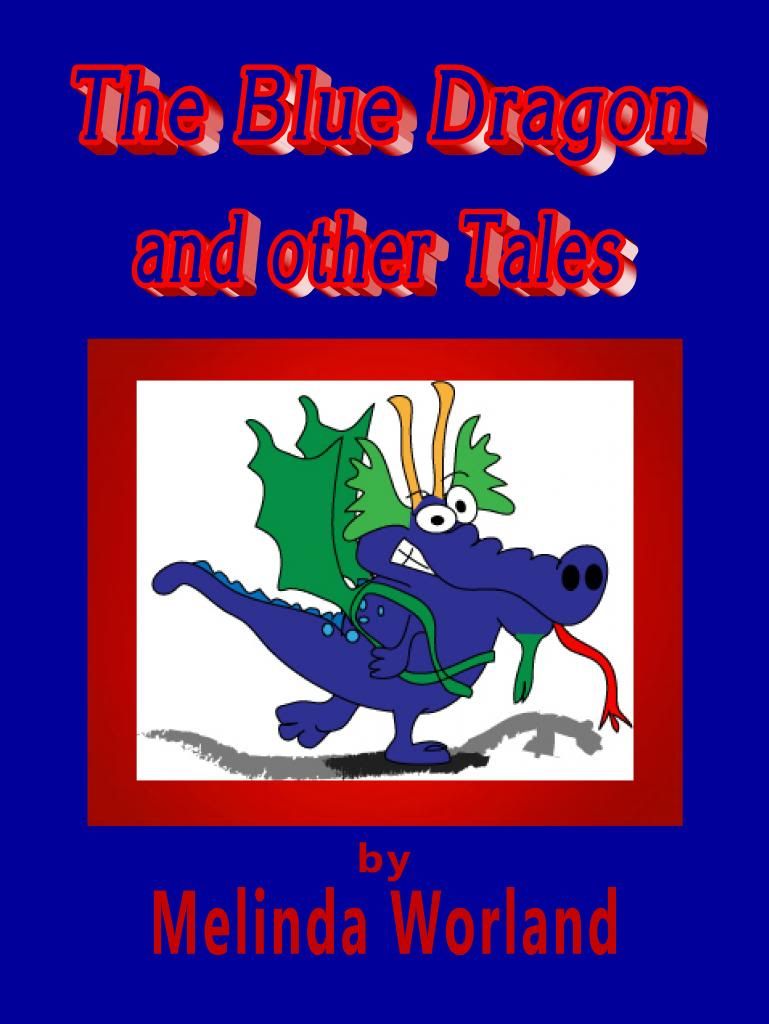 Cover By: Daveda Gruber and Melinda Worland

ISBN: 9781304020055

This book is in full interior color. It is total enjoyment to pick up and meet the most entertaining characters you will ever have the pleasure of getting to know. Enter into the magical world of Melinda Worland and feel the entertainment bursting from the pages. Young children of a multitude of ages could have this book read to them or older ones could read it themselves. Give delight to a child with this amazing book of children's tales.
Review by Publishing with Passion
This book is full of three exciting children's stories. The fun and adorable characters that Worland created are delightful and a pleasure to get to know. She illustrates the book and graphics enhance the creativity. This is the perfect book to read to a child or for an older child to read themselves.
Click Here to Buy:
http://www.lulu.com/shop/melinda-worland/the-blue-dragon-and-other-tales/paperback/product-21011761.html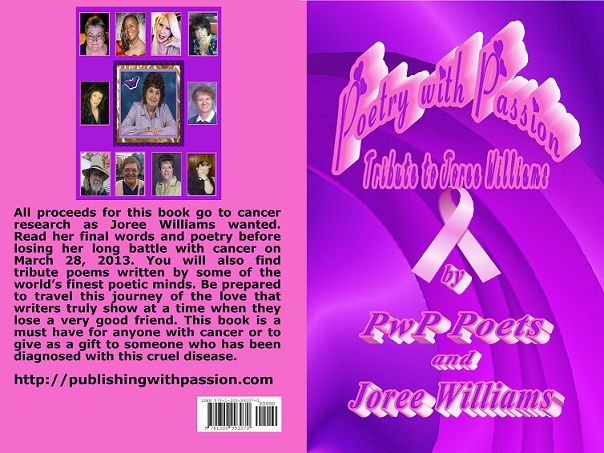 ISBN: 9781300993070
Cover by: Daveda Gruber
This book might make you cry but you will experience so much love that it is a must read. In this book are the final words of Joree Williams before cancer took her life. There are tribute poems by some of the world's great poets. The poetry in this book is an intimate look at how friends show love for a most remarkable peer. All proceeds from the sale of this book go to cancer research. Help fight this disease by buying a copy.
By Publishing with Passion
May 1, 2013
What can one say about some of the most brilliant minds who on their own decided to write poems for a beloved peer on hearing of her passing. These poems come from the hearts of men and women who take love and friendship in high esteem. Buy the book; all proceeds go to cancer research. You will be helping others as Joree wished. You will also get to know a little more about the person who was taken by cancer. The poetry is top notch, so, why not add this book to your collection?
Click Here to BUY:
http://www.lulu.com/shop/pwp-poets-and-joree-williams/poetry-with-passion-tribute-to-joree-williams/paperback/product-21006457.html


ISBN: 9781300843801
Cover by: Daveda Gruber

Poetry that is alive with bountiful and fruitful words will fall into your palms. Clasp this book gently as it contains words of wonderment written tastefully to perfection from an Australian born poet. The words found within are gracefully enhanced by awesome photography and graphic art designs. In some poems, the vision is quite clear and in others you may have to ponder a little while to understand the true meaning as it extends to life. This book is must to add to any poetry collection.
By Publishing with Passion
Mar 16, 2013
If ever your hands would feel the need to hold a book of poetry, this one stands out as a gem. Erina has a way that lets you into her views and dreams that make a person feel as if they are with her in the writing she presents. You will be entertained by extraordinary photography and graphic art. This complements the poetic verse so well. From grief to reality Booker knows how to capture her reader. I recommend this book highly.
To Buy Click Here:
http://www.lulu.com/shop/erina-booke...E37F3D67D05C9E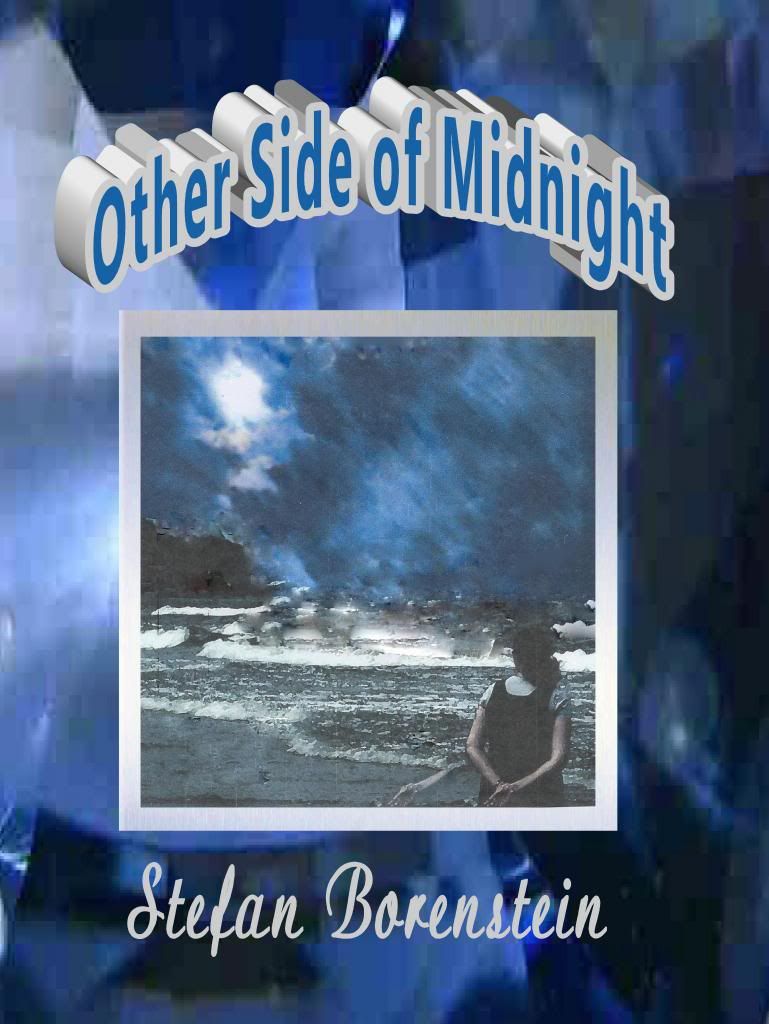 ISBN: 9781300769309

Cover by Daveda Gruber
This author is known to many as "Mad-Poet" and that should explain the poetry inside this masterfully written book. You will find out that his madness is only deep emotional connection to his verse. His interpretations of the world we live in are what this gem contains. This book is filled with words that will captivate any reader of poetry. The graphics and photos enhance the beauty of the journey to be taken. This is the fourth book by this remarkably talented author and his writing is top notch. He has a way of bringing his words to life with his commitment to the art. You will be able to see that this is a poetry book that will have you reading and re-reading. You just may have the desire to buy his other books after experiencing this one.
By Publishing with Passion
Feb 22, 2013
Having read the first three books written by Borenstein, it was my utmost pleasure to read the poetic genius of this remarkable book. I could not put it down. The graphics and photos reveal some of the intentions of certain poems. I recommend this book to any avid reader of poetry. The poems will blow you away.
To Buy Click Here:

http://www.lulu.com/shop/stefan-borenstein/other-side-of-midnight/paperback/product-20712217.html

ISBN:9781300672944

Cover by: Daveda Gruber
As the "Yin and the Yang" need each other to exist, our attitudes in life can be positive and sometimes negative. Still they come through one person's individual thoughts. This book will take to into a spiritual journey of instances which can be both heartfelt through happy time and sad instances in one's life. You will find poetic verse done in forms created by the author as well as styles, not created by the author, brought to life in beautiful poetry that only this writer knows how to bring out. Mary is truly this generation's most fruitful spiritual writer. Take the journey. It is one that many can relate to. Make this piece of work part of your poetry collection.
By Publishing with Passion
Jan 25, 2013
Mary brings forth a mélange of feelings through positive and negative effects that circumstances in her life bring to her. The poetic styles used are interesting and add to the flavor this book takes on. Many of the forms were created by Mary herself and add to the incredible talent we see displayed. There is graphic art work that enhances the poetry it is used for. I enjoyed this book from beginning to end and hope to continue to be able to see more from this poetess.

Cover by: Daveda Gruber
ISBN 9781300573012
A few people took the time to write about this amazing journey as you will see through the Preface, Foreword and 'About the Book' writing, as well as, the back cover of this masterpiece. As you read exquisite and meaningful words, you will see why. Chaya has a magical spirituality to her writing of poetry and brings forth her penmanship in a unique and brilliant way. She finds her way from her birth during the Holocaust and takes us on a journey through her coming through life and "Light." As you turn the pages carefully, inner most feelings held inside are brought to the surface, for this is where Rosen has been and the journey she has taken.
Take a journey that you will not forget as you travel with Chaya through Holocaust Survival and what has made her into the person she is now. She is a loving writer and words from her hold special meaning. Her poetry will hold on to you and you will see her heart and soul open as you turn the pages of "Streaming Light."

Click Here to Buy: