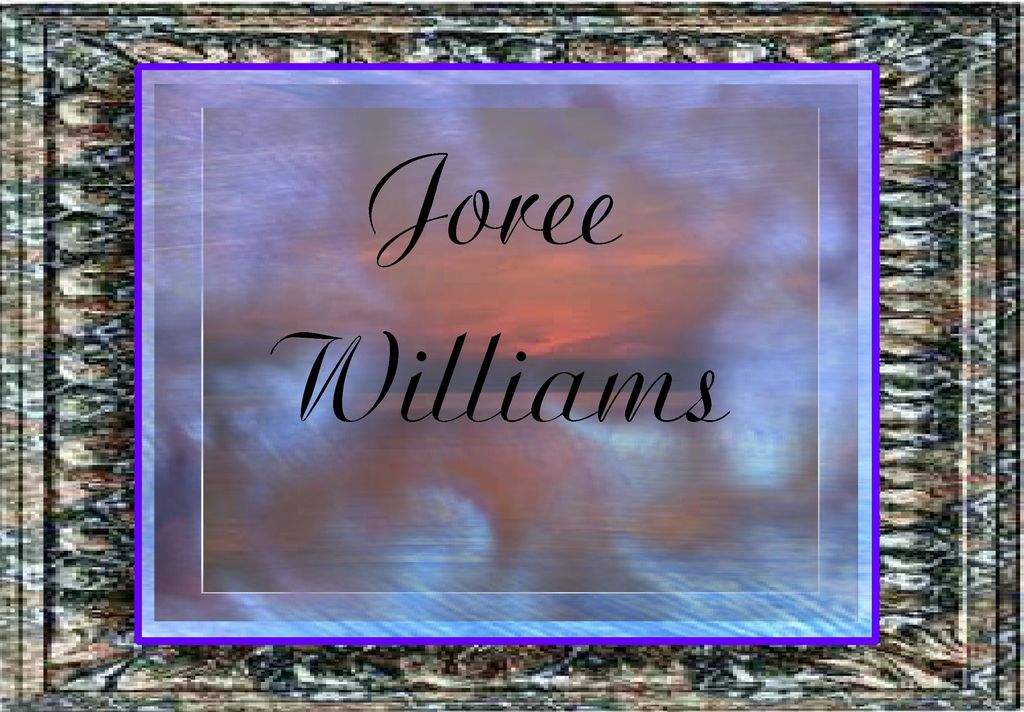 BOOKS by Joree Williams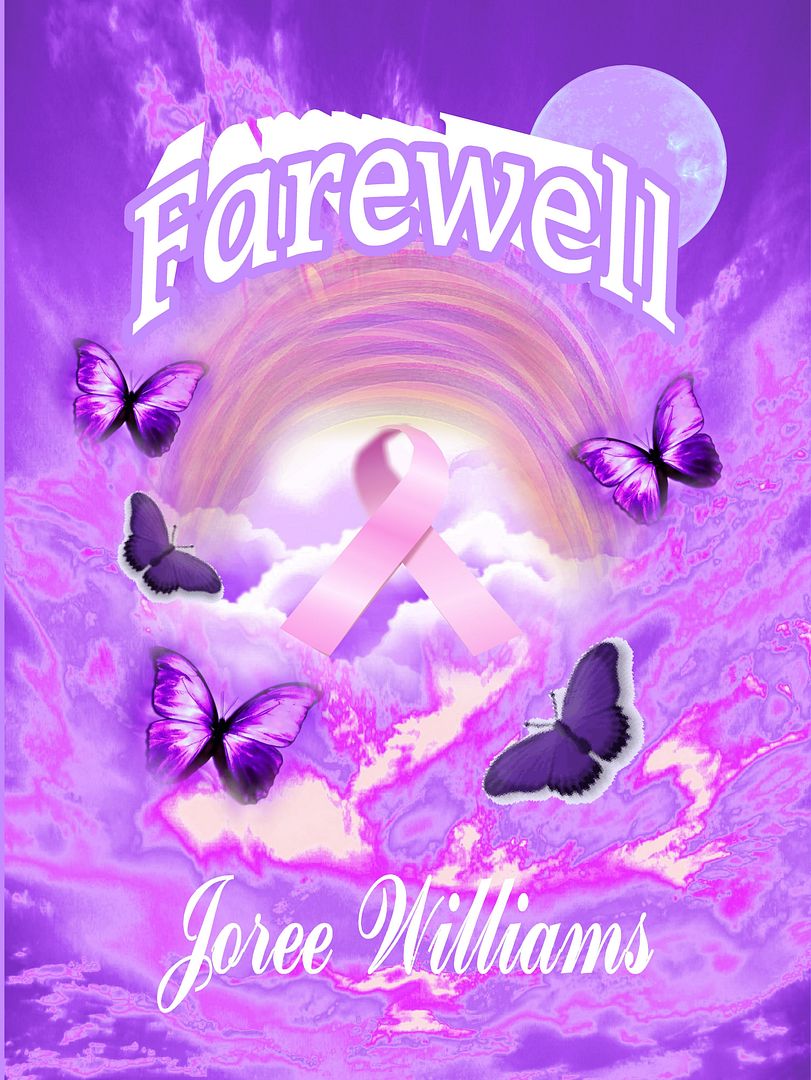 Cover by: Daveda Gruber
ISBN: 9781300238072


What would you want to say if you knew death was close? This book is about a woman in the final stages of cancer. This is her eighth book. She takes you on an amazing journey that can only be written by this very special woman. She doesn't want pity; she wants you to know her thoughts and feelings. If you have had cancer, have this disease or if you know someone who has had it or has it, buy this book. Take the step to learn what this extraordinary woman has to say. Learn and understand that courage and strength can be a big part of a life. A life can be about love, butterflies, purple skies and a lavender moon. It is also about faith and knowing who you are. Joree is a poet and all is possible through poetry.


By Publishing with Passion
Sept. 26, 2012
Joree's journey has not been an easy one and you can see that in the writing within this beautiful book. It will make you sad and make you happy. Williams has a knack for being able to do that. This book had tender moments and this book should be treasured and loved while being treated with kindness and a gentle touch. The book deserves this, Read through the final thoughts of a woman who is facing death. She is dying and yet she has no bad thoughts only beauty and love.


Click Here to Buy: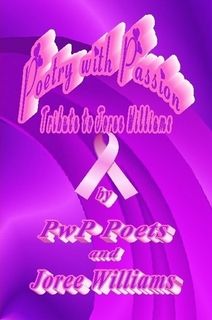 ISBN: 9781300993070
Cover by: Daveda Gruber
This book might make you cry but you will experience so much love that it is a must read. In this book are the final words of Joree Williams before cancer took her life. There are tribute poems by some of the world's great poets. The poetry in this book is an intimate look at how friends show love for a most remarkable peer. All proceeds from the sale of this book go to cancer research. Help fight this disease by buying a copy.
By Publishing with Passion
May 1, 2013
What can one say about some of the most brilliant minds who on their own decided to write poems for a beloved peer on hearing of her passing. These poems come from the hearts of men and women who take love and friendship in high esteem. Buy the book; all proceeds go to cancer research. You will be helping others as Joree wished. You will also get to know a little more about the person who was taken by cancer. The poetry is top notch, so, why not add this book to your collection?

Click Here to BUY:
http://www.lulu.com/shop/pwp-poets-and-joree-williams/poetry-with-passion-tribute-to-joree-williams/paperback/product-21006457.html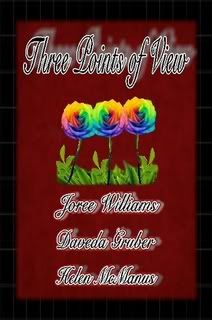 ISBN: 978-1-105-35410-6
Cover by: Helen McManus and Daveda Gruber

If ever you could be able to read the crème de la crème of poetry in one book, you have just touched upon it. Three incredible minds, the best of this era, take you to their own point of view on a given subject. See the extraordinary differences in how three each individual poet expresses her thoughts into words. The subjects have been randomly picked and a point of view from Williams, Gruber and McManus show you the diversity that poetry can have at its finest moments.



Dec. 13, 2011
By Publishing with Passion
This book contains some of the most remarkable poetry you will ever have the pleasure of reading. It is amazing how one subject can be written upon in three completely different ways. You will see how three of the most talented poets around give you such different ways of what they feel when a topic is put to them. A graphic art design accompanies the topic and three poems follow. This makes the book one of the most exciting and unique poetry books that anyone can read. It has some sadness, serious moods and humor all displayed with elegance in this extremely well formatted book. It is a must to add to any collection.



Click Here to Buy:
http://www.lulu.com/product/paperbac...-view/18750771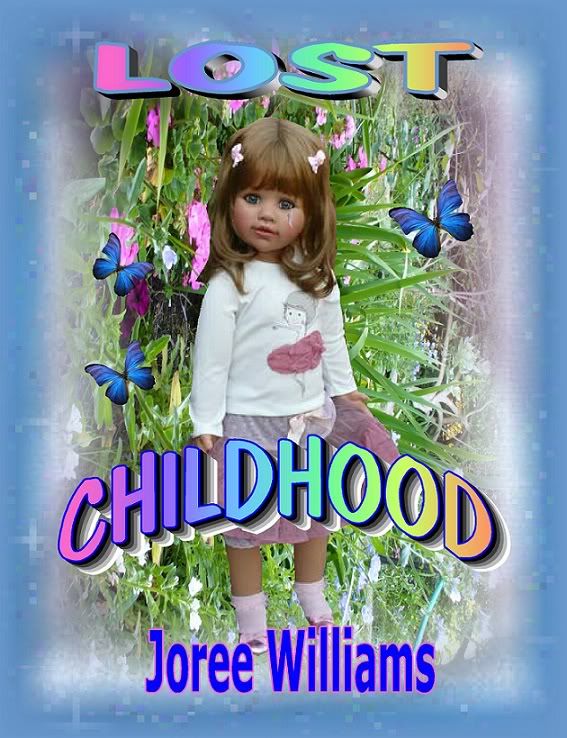 In the hopes that some child or children somewhere will be helped that this book was written. Joree has had a horrendous childhood. Where other people do and have not made it, Williams has. It is sometimes thought, that occurrences such as Joree has experienced, only could have taken place in a movie. The story unfolds the beginning of a very young child, a baby's life, and relives her growth. You will explore the fantasy places an abused child creates in her own mind to help herself not face reality. There is an explanation of poetic styles included. If you have strong emotions about those who would hurt an innocent child, read this book. We must learn to step in and report when we suspect there is child molestation going on.
Cover by: Daveda Gruber
To Buy Click Here:
http://www.lulu.com/product/paperback/lost-childhood/13832495
Reviews:
Nov. 17, 2010 By Publishing with Passion
This book tells of crimes that we should all be aware of. Joree Williams has given us a view into the most inner depths of her being. She tells this story so that we may learn from it. Child abuse happens far too often. Kidnapping and the murder of children happen and must be stopped. There are ways to help end it. Learn the signs from this book. Don't ignore it when you see it could be happening. This book made me cry out. Have tissues handy. We must help or be part of the problem.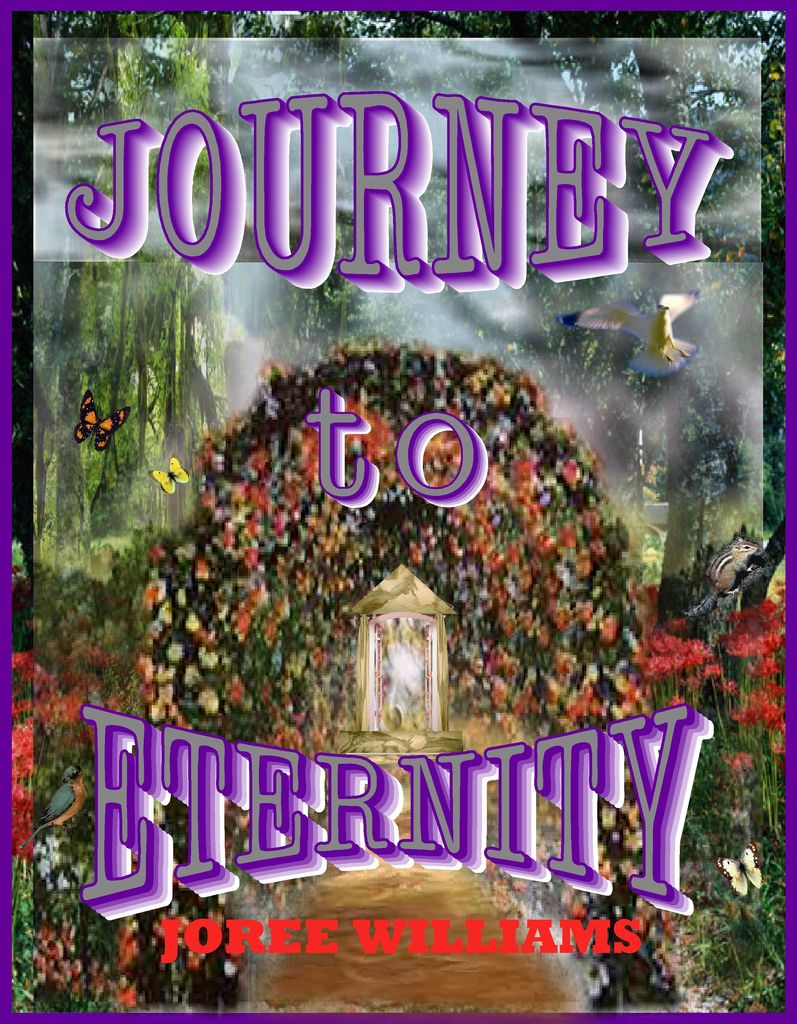 This is Joree Williams fifth book. It has to with the loss of her son, and shows the depth of her inner soul. This journey is one that will make your eyes tear up but you will experience the stages of denial, anger, depression and more to finally acceptance. If you have lost someone dear to you, this book is a must read. Williams will, through her own battle for peace, help you find yours. The book includes a full glossary.
Click Here to Buy:
http://www.lulu.com/product/paperback/journey-to-eternitiy/10906300
Cover by: Carol Eckart
Reviews:
This journey is one that you will never forget and can help you if you have gone through anything similar. If you have lost someone dear to you, this book is a must read. The book includes a full glossary of which Joree is famous for. This is a book that will help others who have lost someone dear to them.
Reviewed by: Daveda Gruber
OTHER BOOKS BY THIS AUTHOR
NOT PWP BOOKS!
Click Here to Buy Living with Cancer:
http://www.lulu.com/product/paperback/living-with-cancer-thru-poetry/5934804?productTrackingContext=search_results/search_shelf/center/3
NOT A PWP BOOK!
Click Here to Buy Ariella:
http://www.lulu.com/content/paperbac...riella/5917294

NOT A PWP BOOK!
Click Here to Buy Poetry Echoes Through the Ages:
http://www.amazon.com/Poetic-Thoughts-Joree-Williams/dp/0978133811/ref=tag_dpp_lp_edpp_img_ex

NOT A PWP BOOK!
Click Here to Buy Poetic Thoughts:
http://www.amazon.com/Poetr-Echoes-Through-Ages-Albanian/dp/0978490932/ref=tag_dpp_lp_edpp_ttl_ex