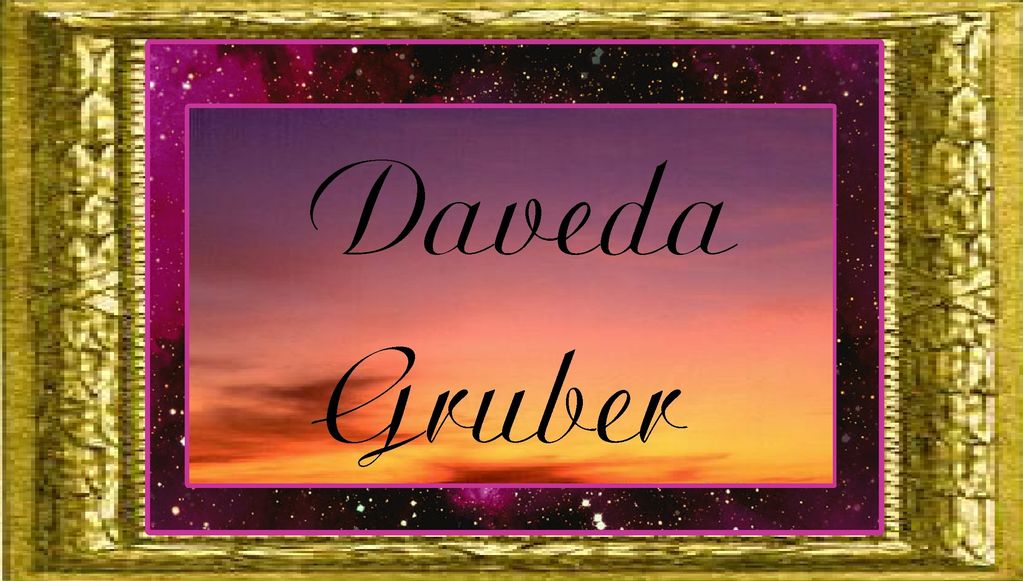 BOOKS by DAVEDA GRUBER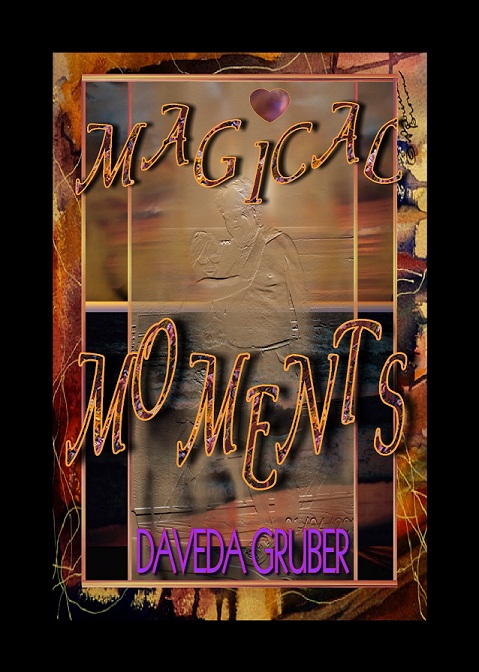 Click Here to Buy:
Paperback Copy:
http://www.lulu.com/product/paperback/magical-moments/12667003
Hardcover Copy:
http://www.lulu.com/product/hardcover/magical-moments/12678019
Cover by:
Graphic Artist: Carol Eckart
REVIEWS:
Love beyond her fondest dreams
Was destined to come true,
She'd met her one and only and
She knew just what to do.

She was lost in Sonny's eyes,
He swept her off her feet,
Touched by passion's burning spark
Its flames ignite love's heat.
She recognized his special love
Could now be hers to own,
Pennsylvania, USA
Would be her final home.
Daveda knew a man so true
Was one she'd not forget,
A special love straight from above
Found on the internet!!!

Reviewed by: Helen McManus
Magical Moments
By Daveda Gruber
Acrostic/ Lines from Book/Minute Poetry
-Book Review

Man and woman uniting as one
A Gentle man with a love so Tender
God blessed me when your sent my way
Ingiting a flame that burn constantly
Caress my body till I scream with delight
Always, my lover, and my best friend
Love had found a special place, where her heart found a home

March was the start to a new life
Only with the love that you can provide
My love for you will never die
Endless longing as it appears done
Never has there been a love like this
Together, we will always walk hand in hand
Shining bright as the sun above


Magical Moment a Great book
Please take a look
Romance defined
Nothing confined

Daveda tells us her story
God gets Glory
Her man Sonny
Sweet as honey

They had an internet romance
Didn't meet by chance
Swept off her feet
Love can't be beat


This certainly was an excellent romantic book. Daveda takes the readers on her journey of romance- From Montreal to Pennsylvania. Sonny Gruber certainly swept her off her feet.
I truly enjoyed this book from the front to the back. The photos really enhances that book and the reader feels that she has been invited into their territory. I could not put the book down. I finished reading it within three hours...
Reviwed by Mary Ann Duhart
By Publishing with Passion
Publishing with Passion is extremely pleased to present Gruber's fourteenth book; a beautiful novel. She will have you mesmerized from one page to the next. Gruber is a romantic spirit who does not hide her intimate feelings that come from within the depths of her soul from her readers. Learn how two people from different countries meet on the Internet. Is it possible for love to inspire a person to change their very existence? Find out the answer to this question and many more in this ultimate love story that will have her readers involved in the magical chapters.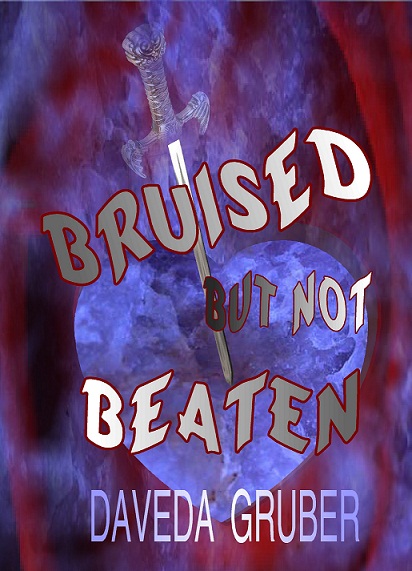 http://www.lulu.com/product/paperback/bruised-but-not-beaten/11478720
Cover Design by Graphic Artist:
Carol Eckart
Reviews:
Bruises shown in each poem
Reality hits your heart
Understanding of her pain
Inner courage for life storms
Searching for answers within
Endurance being mom and wife
Dynamite poems flows from the heart

Battered but did not stay down
Uses poems to find healing
Touching lyrics within the book

Nurturing poetry from the start
Outstanding truth within the lines
Tissues needed to wipe the eyes

Bloody tears as she tells her story
Etched in the heart over the years
Allowing the reader to feel her fears
Teaching others how to endure
Each poem has a story to tell
Now you can read and know of Daveda's scars


"Bruised But not Beaten"
Even Angels Cry she writes
Lost Reality Shares all
Did You Know
Instead I just Cried
Provoking
No Remorse I read
Daveda Leaving Footprints
In her twelvth book
Reviewed by: Mary Ann Duhart
*************************
Reviewed by Publishing with Passion
Rebuilding a life has become a part of Daveda's life. She has done it more than once. In the hopes that someone can be motivated to move forward, she has written this remarkable book which generates her healing. Daveda Gruber revels from her emotions of what she was tormented with at certain times of her life. Gruber's life did change for the better. She has written eleven books and this is her twelfth. A full Glossary is included in this emotional roller-coaster of a conglomeration of poetic genius. A Book that is a must have for any collection.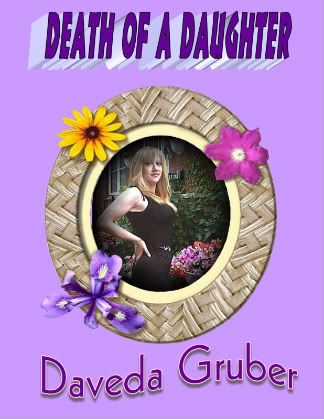 http://www.lulu.com/content/paperback-book/death-of-a-daughter/8579012
Cover Design by Graphic Artist:
Daveda Gruber
Reviewed by Publishing with Passion
Publishing with Passion is more than proud to present this extremely written piece of work. The book is partially a novel and partially poetry which makes it very interesting, to say the least. As you read through the pages you will come to understand that Gruber claims her daughter was abused by her father; both physically and mentally. The story will bring tears to your eyes. Daveda says that if she could overcome the pain; read this book and discover that you can as well.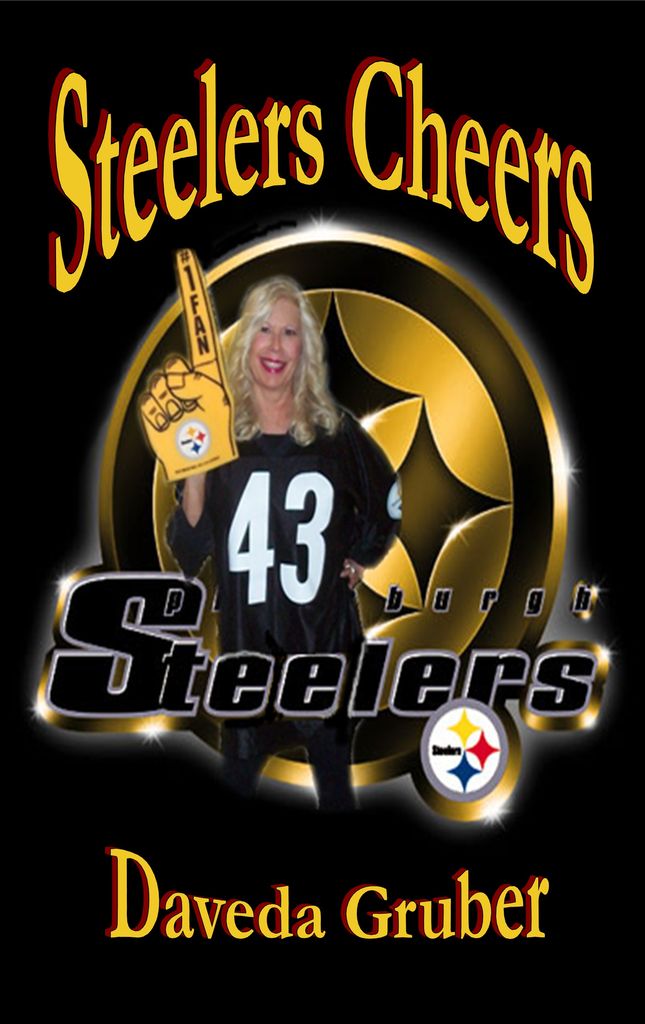 Click Here to Buy:
http://www.lulu.com/content/paperbac...cheers/7852939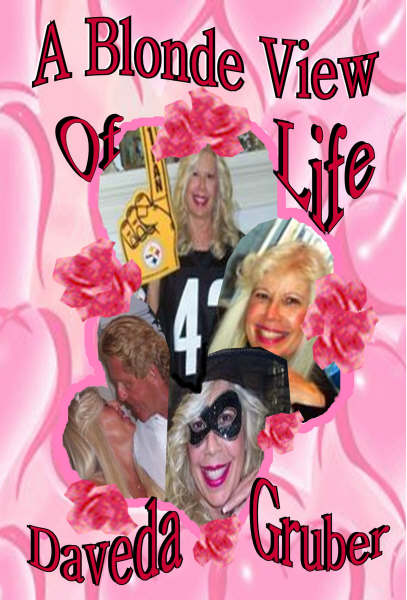 NOT A PWP BOOK!
Click Here to Buy Book:
http://www.lulu.com/content/paperback-book/a-blonde-view-of-life/2789171
5.0 out of 5 stars Fantastic, November 19, 2008

This review is from: A Blonde View of Life (Paperback)


by crj147
"A Blonde View of Life" is a lovely poetry book that has great humor, love and fantasy. The Author writes as inanimate objects and can get you to laugh out loud as you read her muse!! She writes of true events in her life with a passion and writes from her heart and soul. She has lovely black and white photoes of herself and her family. The book just arrived today but after dinner I had to sit down and read it from cover to cover to help me with the very tedious day at work. I would highly reccommend to anyone that needs to feel uplifted by laughter and the emotion of love. I have all of this Author's books and this one also is one I will pick up to read again. Great collection you can be proud of. Kudos to you once again Daveda ! Christina R Jussaume Author/Poetess Fantastic assortment of poems!

5.0 out of 5 stars ladydu, August 30, 2009

This review is from: A Blonde View of Life (Paperback)

A Blonde View of Life
Pruntiform-Acrostic


A Blonde View of Life is an amazing book
Blonde is the author-her name Daveda
View the world with a positive look
Of any situation you'll find in this book
Life can be happy this you will see
Is this book humorous-Oh I must agree
An amazing love story of herself and Life
Amazing book to read all through the night
Book was written by Daveda Gruber

Awesome, amazing

Blonde, bold
loved, loyal
open, obvious
nice, neat
dependable, descriptive
enduring, endless

Viewing, victorious
interesting, intelligent
entertaining, enthusiastic
willing, wonderful

Observing, ongoing
faithful, fearless

Lover, lady
intreating, impressive
favored, fashionable
enjoyable, eloquent


Daveda certainly let her talents shine through in this lovely book. She gives the reader a view of how the items used in everyday feel about you using them. Very humorous and a joy to read. A must for any library.

Reviewer Mary Ann Duhart writter/publisher of Healing Through Poetry
__________________




5.0 out of 5 stars A Blonde View of Life - Excellent Humor in Poetry at Its Best!, August 11, 2009

This review is from: A Blonde View of Life (Paperback)

This is what I classify as a funny and happy-type poetry book. It's packed with humor and is written by a wonderful blonde who jokes about herself. Daveda Gruber, is a sensational author and poet of numerous volumes of poetry. She is beautiful, witty, and full of charm, which will become very obvious while reading this excellent poetic volume, "A Blonde View Of Life."

Daveda starts the book with an exceptional poem, "A Yellow Rose," written in the Quatrain format. It speaks highly about meeting her husband, Sonny, who is from Pennsylvania, when he travelled to Montreal, Canada to meet her for the first time.

You will crack up while reading her series of poems, "Gym Bag on Fire," regarding buying underwear for her ex-husband, Jerry, who is a lawyer. Apparently, he had left his gym bag on the stove top with a variety of his underwear inside and the bag burned to ashes. The irony is that she had to buy him several new sets of American underwear, while accompanied by her now husband, Sonny, at her side in the store. HA! This is really a funny poem.

While reading, check out her poem, "A Blonde Moment." It will have you in stitches from laughing. In the last stanza she states, "I am a dumb blonde honey; it seems that Jerry still owes me money (referring to her ex-husband the lawyer)."

Her articulation and personification of inanimate objects will get you moving in the following poems: "I am a Jockstrap," "Life as a G-String," "I am a Sock," "I am a Bra," and others. She brings these non-life pieces of clothing to life in her poems while telling detailed stories with vivid images.

Reading about famous people is like a "Who's Who in American Society." Catch her with these famous people: President Bill Clinton and his wife, Hillary; John Lennon the singer, and his wife, Yoko Ono; Oprah Winfrey (talk show host); Scotty from Star Wars, beaming her up; and Tiger Wood, the golf pro. Don't forget that she is also an avid golfer; therefore, if you're on the golf course and hear someone yell, "FORE," don't forget to take cover. Additionally, she is a Scorpio; therefore, take some bug juice with you. Haha! This is so much fun writing about my dear friend and poetess.

Daveda gives tribute to her dear and precious mother, who still resides in Montreal, Canada, in the following poems: "July Ninth or Tenth," regarding her exact date of birth, and "Happy Mother's Day" in the forms of a Quatrain for the former, and Double Etheree poem for the latter. She also renders tribute on her sisters in "Three Ballerinas." They are really cute!

She uses the Rhyming Couplet form to place her loving husband, Sonny, in the spotlight. Additionally, her use of the Epigram form is very witty in articulating the essence of their love. Don't forget the brown fluffy poodle pup, "Lady Godiva," I bet she eats nice dark chocolate candy.

Daveda speaks of her breasts in a humorous manner with a series of poems. She refers to how she has had breast reduction, and how her breasts have grown back to be magnets for men's eyes. This is a really funny and humorous section.

She has a variety of pictures throughput the book, which makes the pages catching to the eyes. Several of the pictures show her beauty, husband, mother, sisters, and many more. Several motifs are also prominent.

Over all, this is an excellent poetry volume written in a story format using a variety of poetry forms. It's humorous as poetry should be, intriguing, and inspirational.

Obtaining and reading this book,"A Blonde View of Life," should be a special treat.

Submitted by "Epulaeryu Master."

Joseph S. Spence, Sr., is the co-author of two poetry books, A Trilogy of Poetry, Prose and Thoughts for the Mind, Body and Soul, and Trilogy Moments for the Mind, Body and Soul. He invented the Epulaeryu poetry form, which focuses on succulent cuisines and drinks. He is published in various forums, including the World Haiku Association; Milwaukee Area Technical College, Phoenix Magazine; and Taj Mahal Review. Joseph is a Goodwill Ambassador for the state of Arkansas, USA, and is an adjunct faculty at Milwaukee Area Technical College. He has completed over twenty years of service with the U.S. Army.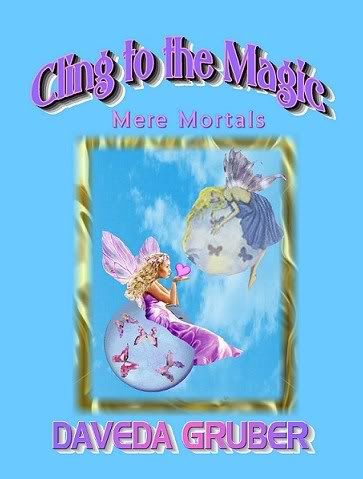 To Buy Click Here:
http://www.lulu.com/content/paperback-book/cling-to-the-magic/7311865
Cover Design by Graphic Artist: Daveda Gruber
REVIEWS

Mar. 31, 2010 By Terry Eckart This book by Daveda Gruber is Wonderful!!! Cling to the Magic will walk you through many different Styles of Poetry. From Laughter to Tears. A Very Talented Author is Mrs. Gruber. She will share her heart and Soul with you in this book. You can just feel the Passion coming from this Author. I would recomend this book to Anyone who loves Poetry or wants to learn Many New Styles!!




Mar. 31, 2010 By Carol Eckart I would just like to say that in this book , "CLING TO THE MAGIC" by Daveda Gruber shows her talent as far as being a poetess and perfect forms and styles, she is so very talented in poetry. Not only that but was a wonderful book to read as her takes you inside her heart and life in a mixture of poems. I recommend this book highly!
5.0 out of 5 stars

Cling To The Magic--Just Awesome!, March 30, 2010

This review is from:

Cling to the Magic (Paperback)

"Cling To The Magic" is an excellent book of poetic forms and techniques by Daveda Gruber. This is her recently published book and probably the most comprehensive of all the others. This book consists of 237 pages of poems. Each poem has a corresponding picture which brings out the tone and essence of the poem.

The first poem in the book begins with the theme and title, "Cling To The Magic." This rhyming couplet poem is written in the true end rhyme format with an equal amount of syllable count in each line (Page 1). The tone of this poem is uplifting and one is able to feel the magical flow of the lines. The second poem entitled, "Magical Place" is also wonderful (Page 3). It is written in the Rubiyat style with four lines in each stanza. There is an alternating rhyme pattern in each stanza. The essence of the poem is truly magical.

There are several poems in the book regarding her family. There is a beautiful poem about her husband, Sonny, entitled "Loving." It's written in the Ameri-ku style (Page 34).The book continues with a variety of poems about her family in different styles and forms.

There is a glossary which explains all of the forms used in the poems for greater understanding and clarification. The glossary is listed in alphabetical order.


Great Learning Tool!
22 Jul 2009
by Christina Jussaume
Cling to the Magic (Hourglass)

Cling to magic within each page
She writes with passion, soul and heart
You feel conflict leaving and rage
You see arrow of cupid's dart

You feel essence of her being
You feel tranquility brought
Imagery she writes you're seeing
You feel the Devils' snared and caught

You feel forgiveness turn to love
You see her talent all so well
You feel she's guided from above
You find reading pleasure to tell

You find reading pleasure to tell
You feel she's guided from above
You see her talent all so well
You feel forgiveness turn to love

You feel the Devil's snared and caught
Imagery she writes you're seeing
You feel tranquility brought
You feel essence of her being

You see arrow of cupid's dart
You feel conflict leaving and rage
She writes with passion, soul and heart
Cling to the magic within each page



By Christina R Jussaume copyright 2009


*This poetry book of Daveda Gruber's is a great learning tool. She has a full glossary at the end with all the styles she has accomplished within this collection. It was very enjoyable to read from cover to cover and a lovely addition to my poetic library. Christina Jussaume Author/Poetess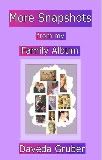 NOT A PWP BOOK!
Click Here to Buy Book:
http://www.lulu.com/product/paperback/more-snapshots/2209098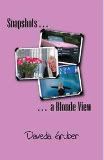 NOT A PWP BOOK!

Contact Author at: